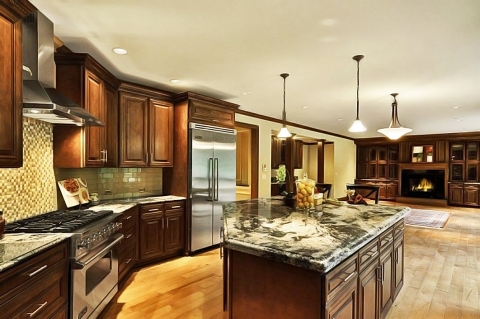 As the hub of the home, the kitchen is the room with all the action. It's not just the place to prepare and cook food — it's also used for entertaining guests, storing gadgets and eating family meals. Your design needs to accommodate all these activities, which is why remodels are more popular than ever. Today, islands, farmhouse sinks and stainless steel appliances are common additions, while customizable cabinets and countertops are key components of our inspirational dream kitchen.
Because the layout and storage options are pretty standard, picking interesting materials is key for helping your kitchen stand out. When it comes to countertops; granite, wood and marble are elegant options, while concrete, limestone and stainless steel are a little more trendy. For a bit of color, add a bright mosaic tile backsplash or pick out a vibrant wood floor finish.
You can even mix up your cabinetry! Frosted cabinets are great for a modern feel, while painted cabinets are an easy, inexpensive way to revamp your current design. We offer it all, come in and checkout our showroom today and explore all the options available to you!